*Albert being really StFame*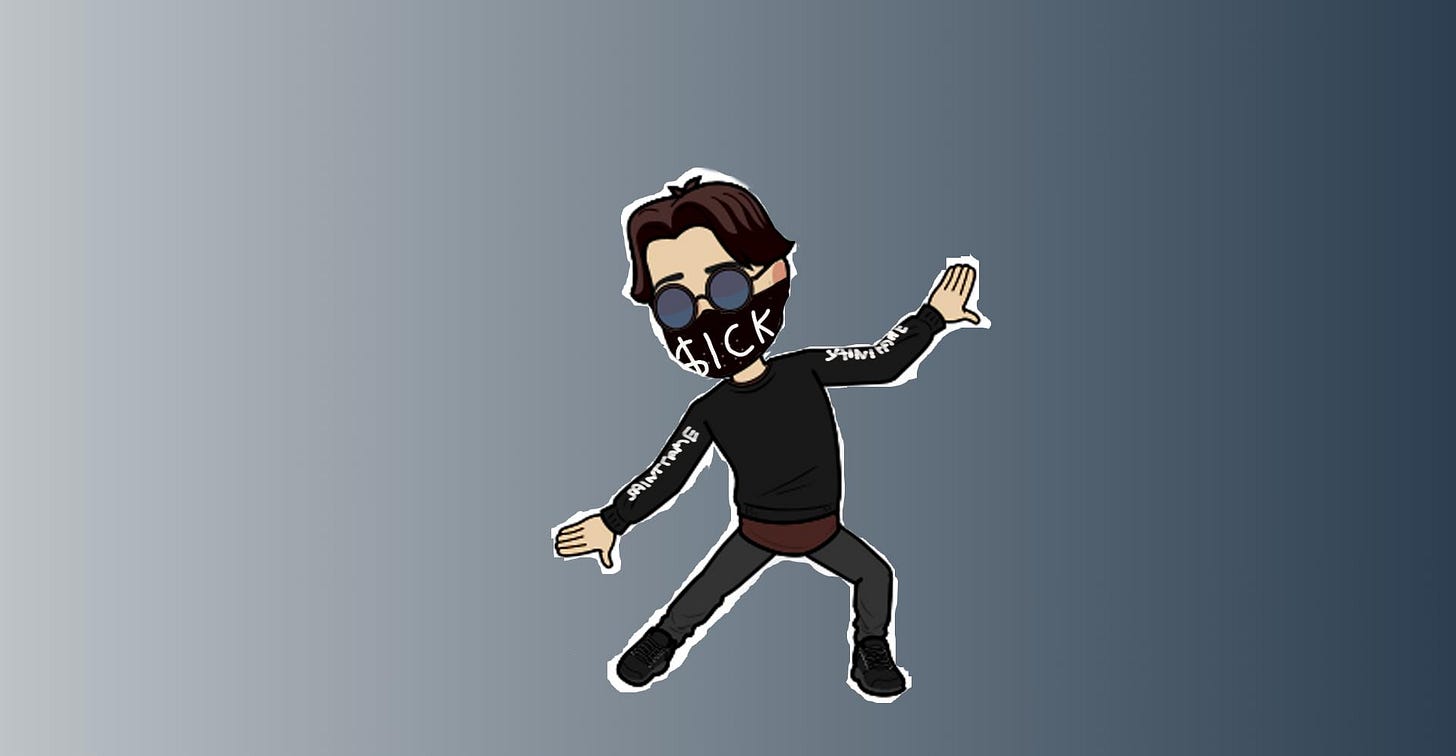 Welcome back friendsssss,
Last time on this newsletter, a new character was introduced to the Albiverse. Is she real, is she fiction? More background on why she exists in my last general update.
This very time. i.e now. We're going to see how crypto projects like Zora, Foundation and MetaFactory bring creators from selling stuff to their communities and fans to actually working side by side with them to achieve bigger things.
To make that more digestible, I've structured this issue in two parts.
First I'll cover Zora (and Foundation built on a similar model). Zora builds on drops, a multi-year trend of the fashion industry and adds crypto capabilities to it. For this reason, Zora sits at the interesection of crypto and fashion or cultural industries more broadly.

Second, I'll cover MetaFactory. Which is more embedded in Web3 culture than the other two. Here drops are not its core business but an instrument serving MF's main goal: which is to make creators and their communities work together before, during and after the creation process.
---
Zora - Kickstarter 2.0
The main thing Zora does is provide a drop engine as a way for creators to drop limited editions to their communities. Drops have been a rising distribution channel in fashion ever since about 2017 when Supreme started to drop super hyped apparel. They are all about surprise, hype, scarcity and FOMO. Which really sounds like a crypto ICO lol.
Contrary to a traditional drop where consumers directly access the good (T-shirt, poster, album...), here they get a token that they can redeem against the good later on.
So similar kickstarter, first creators propose a project to their communities and second they sell tokens through a drop. Third, the proceeds generated with the drop can then be used for production. This is great, but why is it Kickstarter 2.0 then?
That's where things get interesting.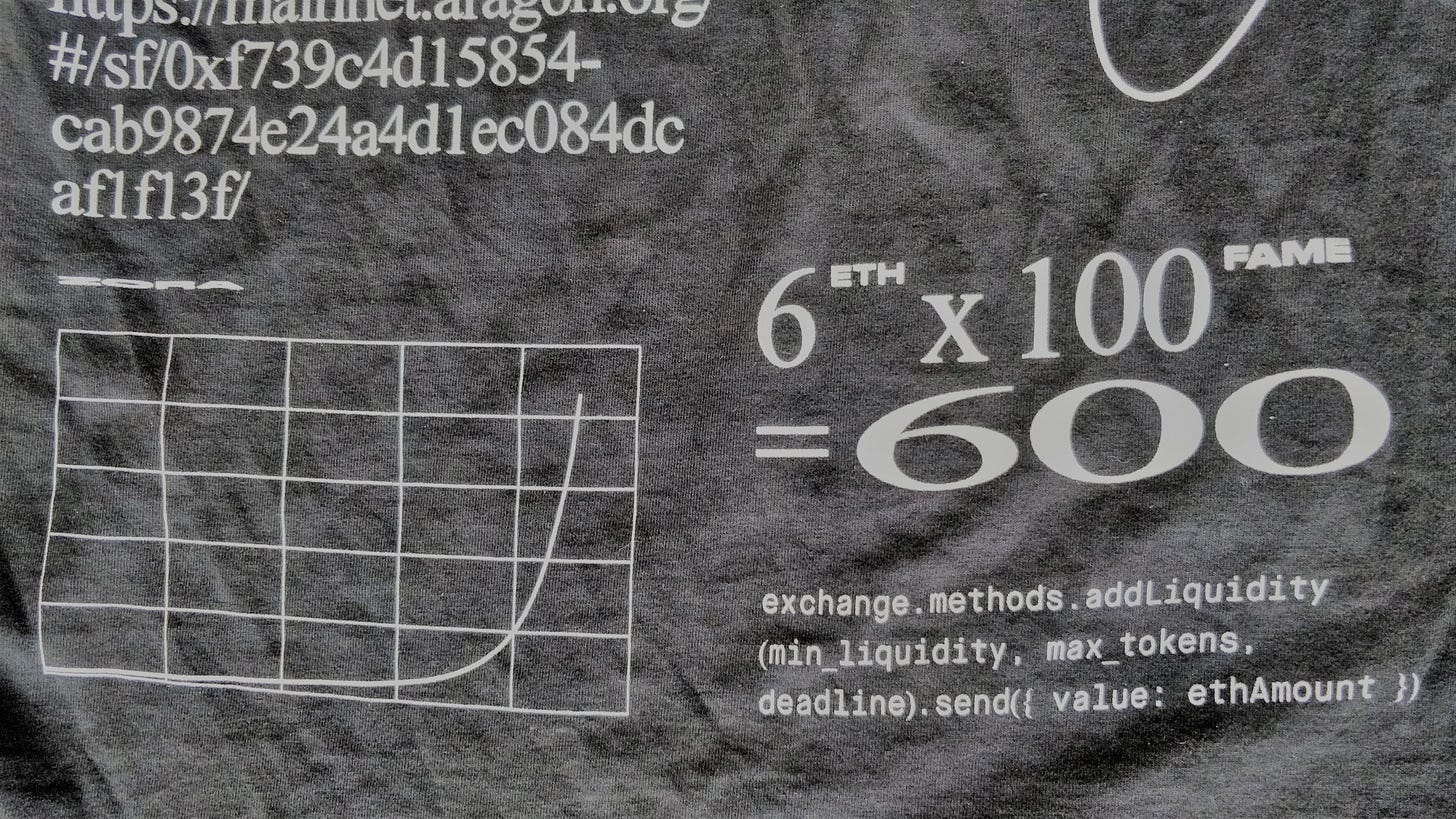 The price of the token is set by a function, just like the one on the StFame shirt above. This means that consumers are incentivized to buy early because the price rises along the curve each time a new person buys a token. And after they have bought the token, people can do whatever with it. Send it to a friend, keep it or sell it back once the price has appreciated.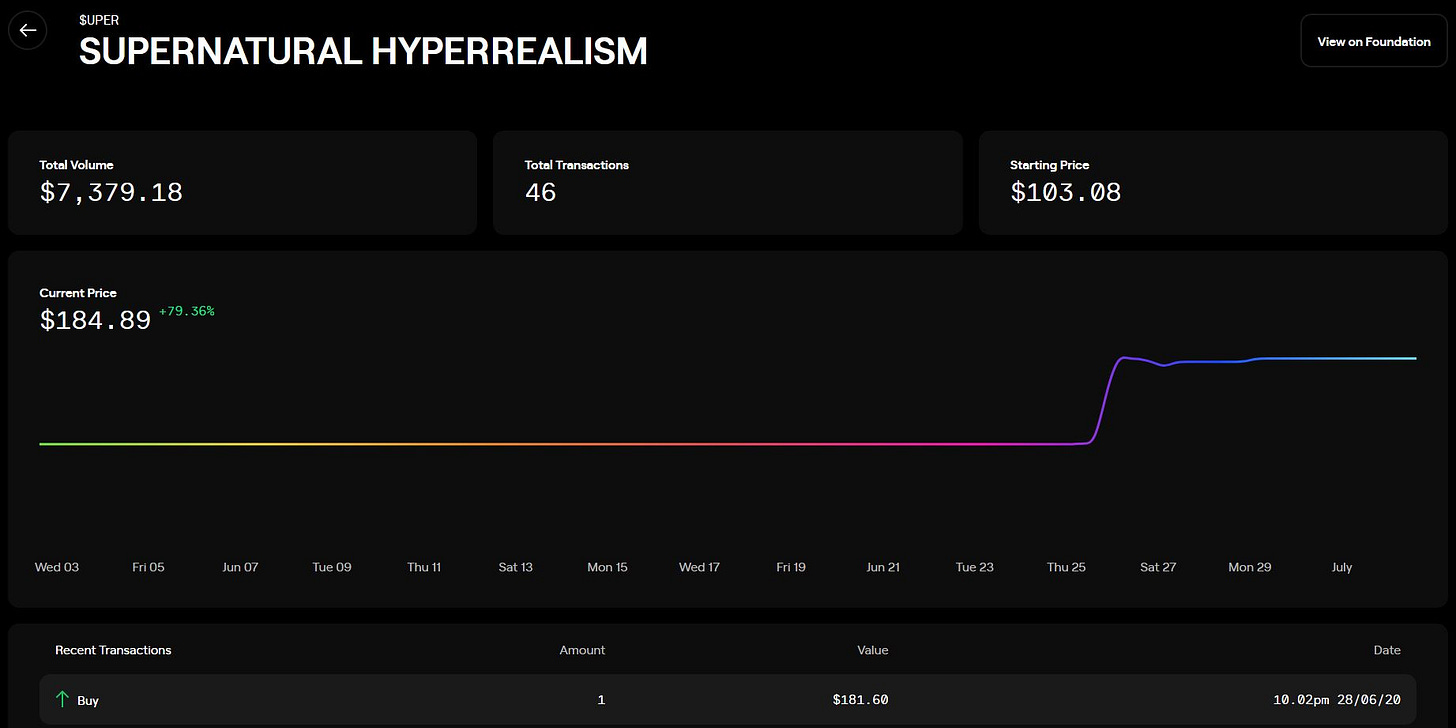 Above is the price fluctuation for a piece of art sold on Foundation.
The same way holding ETH aligns you with the success of Ethereum, holding a token aligns you with the success of the drop and creator.
Let's say 80 people buy a t-shirt's token. First they become aware of the drop on social media. Then they compete on the date and time of the drop to buy early. The first token may be bought at $10 and the last one at $410 or $800 depending on the steepeness of the price curve. Now once the sale has happened and speculators have resold their tokens, you end up with an 80 people group with skin in the game which can keep promoting the sale and creator on social media for example.
Here is how the participant's journey might look like, from community member to co-stakeholder of the item or brand: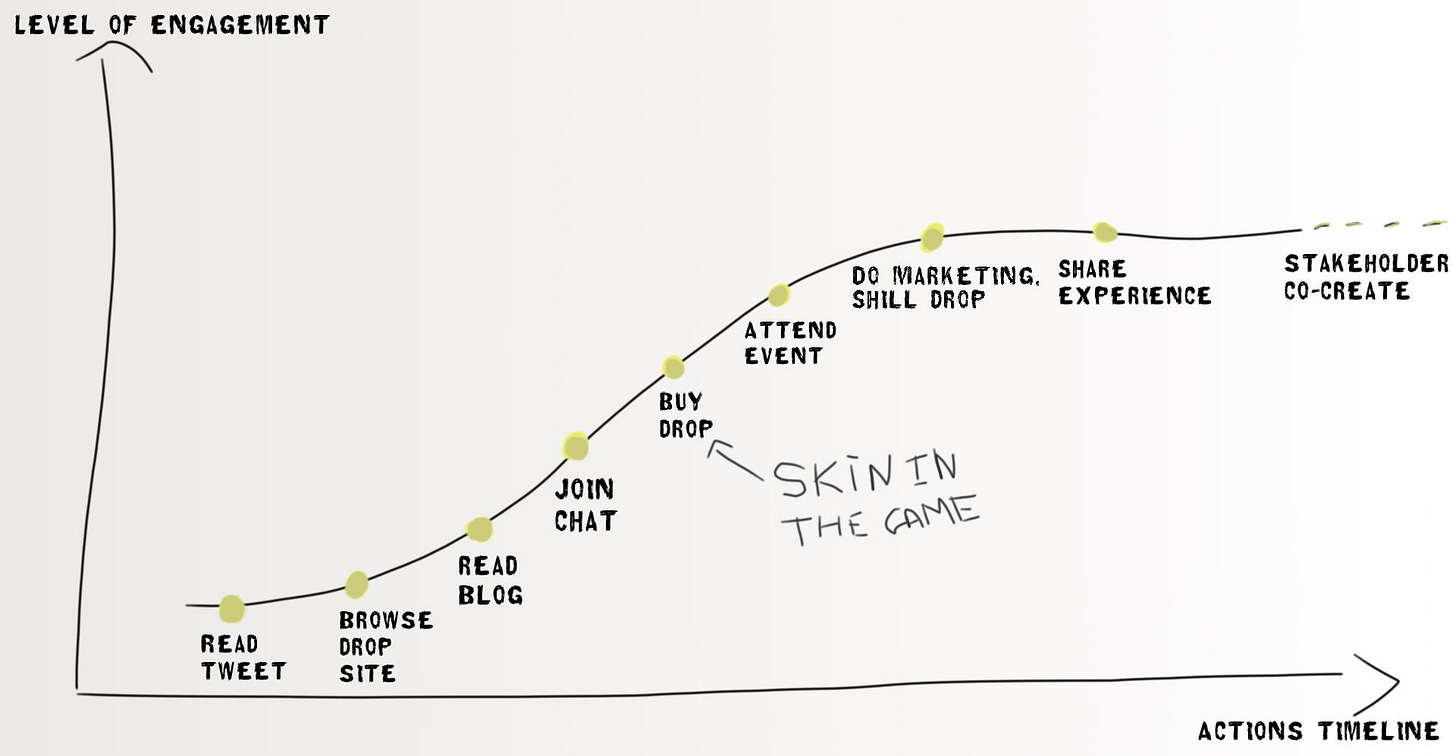 Related reads on crypto enhanced drops and Kickstarter 2.0:
Zima Red details how Crypto helps eliminate some of the frictions in legacy culture markets

Foundation is another project similar to Zora. They are doing neat stuff as well. Check out their latest drop!
---
MetaFactory - Co-creation
"making the connection between fans and artists is the next step [...] iterations of this could be years but that's kind of where I want this to go [...] it is an exctiting time to be an independent artist" - RAC, dropped $TAPE on Zora
And that's where we enter the second chunk of this post. Empowering artists to quikcly find their most fervent supporters and be financially aligned with them is incredibly powerful. At an age where attention is scarce an engaged community is so valuable.
There is a shift from shared narrative between artist and supporters, to shared narrative + shared incentives. Skin in the game. Bringing us one step closer to what an actual community is.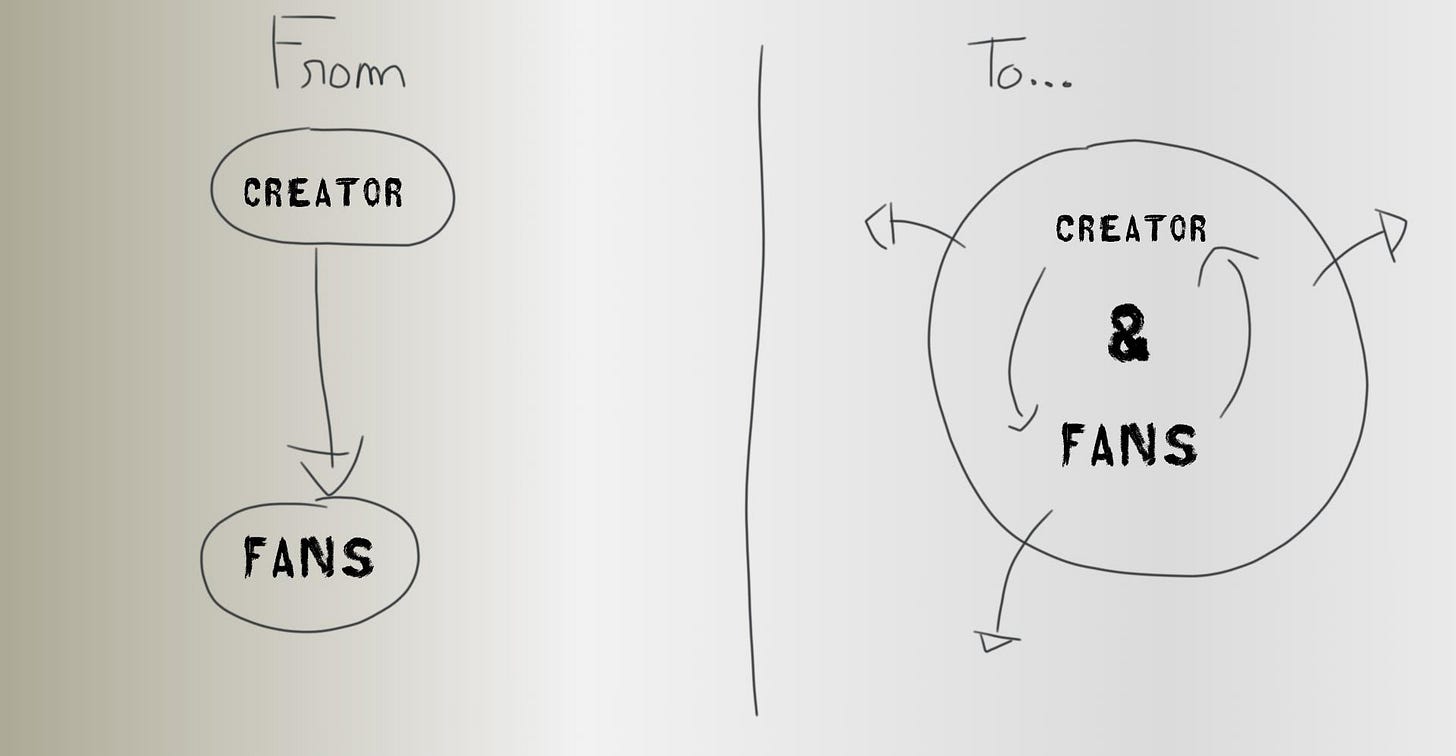 MetaFactory has some of the most forward looking initiatives on this front. The Wicked Sunday Club is a creation club organized around artist Twisted Vacancy. 22 out of the 42 available membership passes were bought at a starting price of 2 Ether (approx. $420).
With the pass, members get a couple nice physical and digital (NFTs) pieces of apparel. But most importantly, they access a Style Guide created by Twisted Vacancy, that they can use to come up with their own apparel or art pieces. The profits generated from the sale of these creations goes back to the club and its members. And so the line between creator and supporter is now blurred.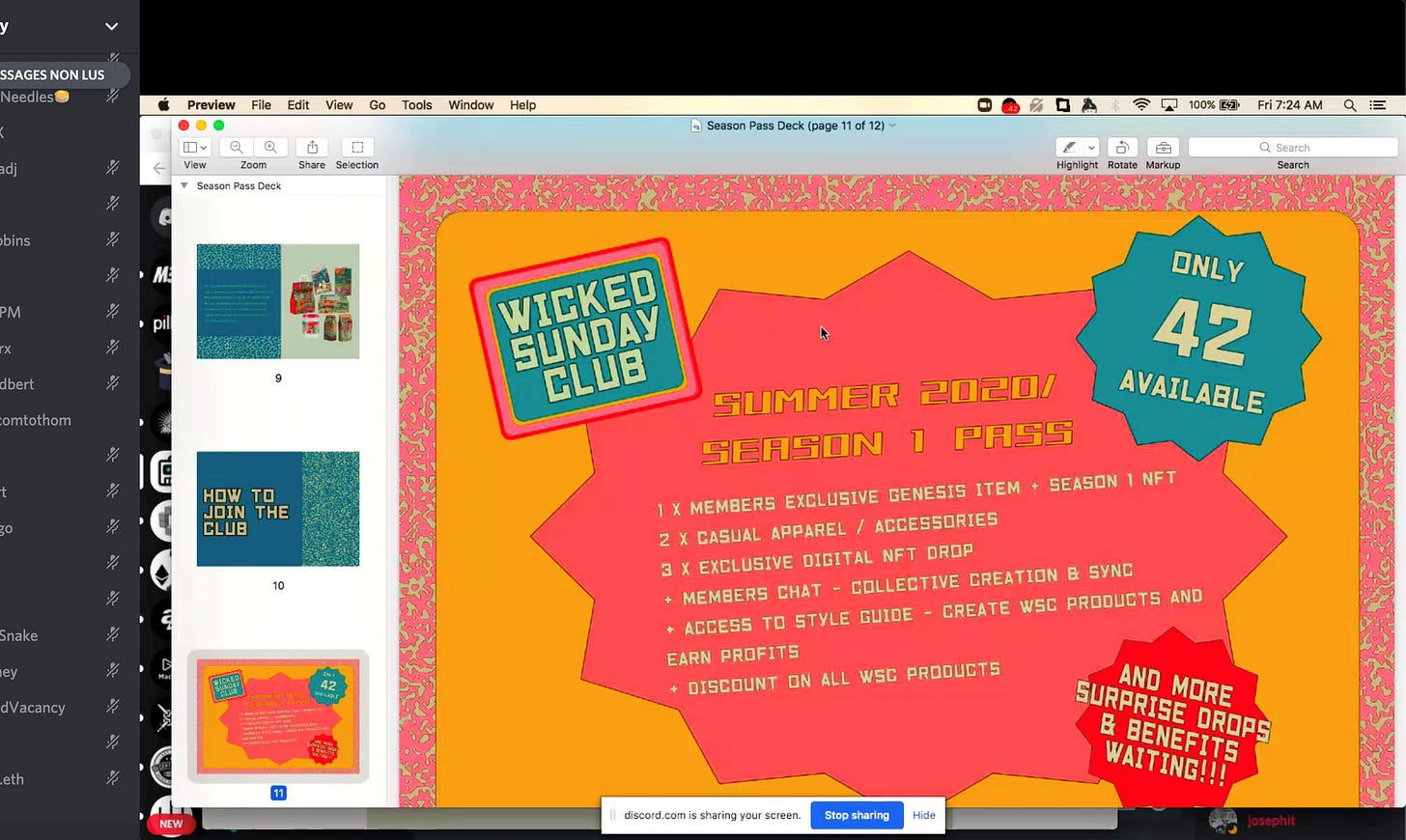 If you don't have design chops, you can also be active in doing marketing and sales as part of the club and earn loyalty points for a share of the revenues along special privileges!
This a first experiment for the MetaFactory team. And there should be a lot of room for the community to lead and experiment with the assistance of the MF team.
Links on the evolution of creation:
MetaFactory is exploring the metaverse using VR platforms like Cryptovoxels and VRchat (check this and this). Find the MF Discord here.

Great thoughts from Brian Flynn on co-ownership and especially tools for creators
---
That's it for today! Let me know what you think, feel free to DM @albiverse.

And don't forget to subscribe to this newsletter for future issues!